Strategy
EDI vs API | Differences and Benefits – Zenbridge
On November 3, 2022 by Zenbridge
APIs can provide faster and more powerful solutions for most businesses today, but EDIs remain the core choice in some sectors. APIs are a modern concept that eases integrations for fast-growing businesses. On the other hand, traditional EDI standards, although seems outdated, are still in demand across retail, healthcare, automobile, logistics, construction, and manufacturing. With the growing popularity of one, while the other is still in use, every business must learn the difference between API and EDI.
Differences Between API and EDI
EDI is an old format to establish a connection between systems, whereas API is a modern and robust web application management. An API can be highly advanced in flexibility and accessibility during electronic data exchange. Moreover, EDI uses a network-based system, while API establishes a cloud connection between two systems.
While API and EDI perform similar functions, they have significantly different approaches. Here we try to understand what separates API and EDI by learning about their benefits.
EDI and its Benefits
EDI is a pivotal component in developing and sharing integral data in B2B systems. It can process large quantities of documents into an electronic format. In the early 1970s, EDI sped up data exchange while providing trading secrecy to businesses. While many organizations have moved to advanced APIs, many still rely on traditional EDI. Other than minimizing labor, here are some notable benefits of EDI.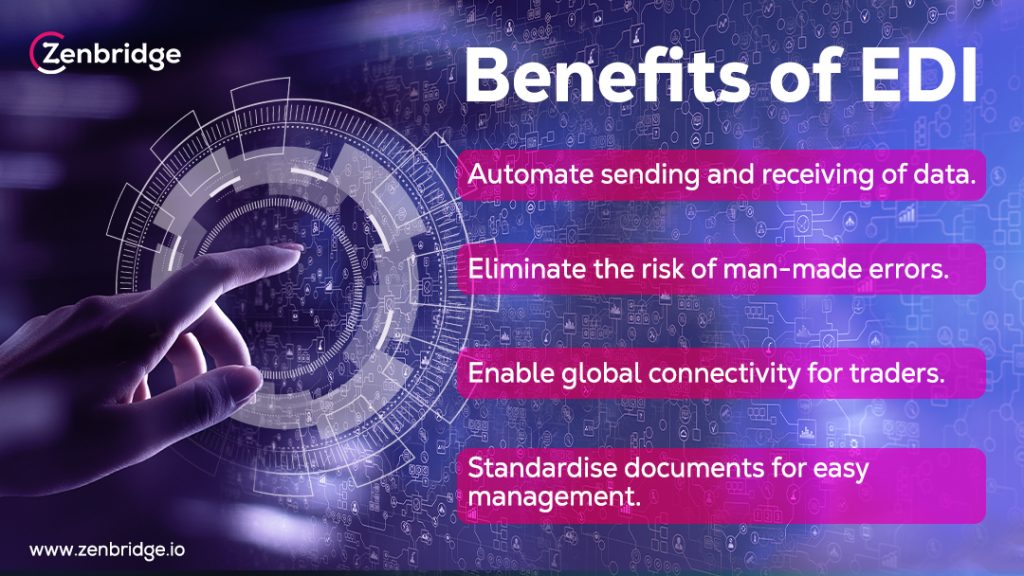 EDI Helps in the Automation
EDI automates data transfer using a secure connection between two trading partners. EDI is known for its protected automatic transmission through a secure medium for sending and receiving data. Once the EDI integrates, the system allows data access to authorized users only. Authorized users can also control who can see the data. Businesses can manage such data transfers in a safe environment using EDI systems
EDI is Capable of Mass Data Management
EDI integrations allow businesses to personalize every element in data interchange. Logistics services that use traditional EDI integrations have specific data designs for partners. An API may not specify such EDI integrations made for unique trading partners. EDI can take the essential information, allowing users to accurate mass data.
EDI Offers Global Connectivity
Once an EDI integration is set up for retail, healthcare, automobile, logistics, construction, manufacturing, etc., any new partners can get on board with ease. Since there is no EDI API between two businesses, direct communication can act in favor of both parties. They can directly work their EDI specifications without reaching a third-party service provider. When the internet drops in any one of the parties using an EDI standard, some functions can persist, maintaining the connection.
EDI has Specified Standards
When EDI integrations grew in popularity, different regions came up with their own EDI standards. Today, we have several EDI standards that are region-specific or industry-specific. A business that needs EDI integration can immediately generate requests by knowing the standardized formats of its partner organization.
API and its Benefits
APIs came into existence in the early 2000s. Businesses were exposed to superfast data exchange, cloud access, and simplicity for the first time. Using API in retail, automobile, logistics, pharmaceutical, etc., can improve efficiency in supply chain management. Every business that opts for future technologies can benefit from API in many ways. Here are some benefits of API contributing to its popularity.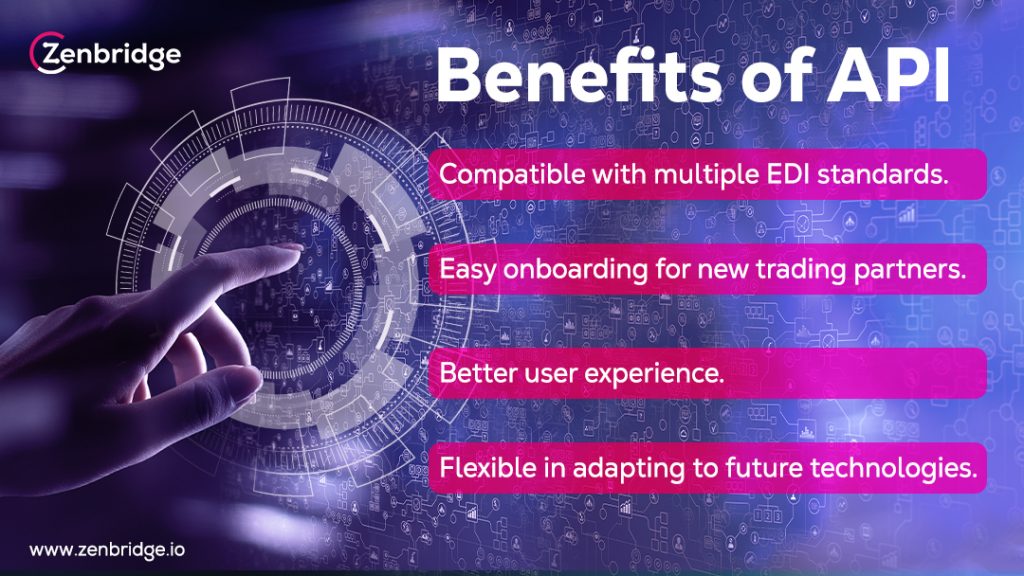 API is Compatible with Multiple EDI Standards
An API can become handy to developers once they understand how it works. APIs can thrive where developers desire higher success rates during repetitive operations. Consider a situation where a business wants to connect with two global traders. The first trader uses ANSI X12 and the second trader uses EDIFACT. In such a case, our original business will develop two separate EDI integrations to connect with each trader. However, there is no need to create a separate EDIFACT API. We can solve the complexity of developing each EDI using an API platform that accommodates both EDI integrations.
API is Easier to Onboard
API can streamline the EDI process immediately. There is a need to receive real-time validations while checking for EDI specifications given by the business partner. Sometimes, your partner may take time to respond to your specifications mail. It may take days or weeks. On the other hand, your partner can approve your request in real time when you convert EDI to API. Not only the EDI integration works at high speed, but also the validation process between the trading partners.
API Offers Better User Experience
APIs are easier to manage. Often EDIs can take months to develop and process, which can slow down a fast-growing organization. With an API, your EDI integrations can complete in weeks. It connects you with systems that are already compatible with ERP, TMS, and WMS. Any updates made to your trading partner's versions will also update the API that you use. Moreover, API offers a user experience that a beginner developer can understand. This helps small enterprises experience faster growth with minimum experience in EDI integration.
API Offers Future Technology Compatibility
APIs are flexible and can keep adapting to new technologies as they get implemented. Emerging technologies like blockchain provide maximum visibility to users. Investing in future technologies is essential for any business that is taking early steps toward a thriving future.
The B2B transmission of data between two partners is possible with EDI-API integration today. However, every organization has unique preferences for a safe and powerful medium to transfer electronic files. While some stick to traditional EDI integration, others have switched to modern EDI to API migration. The common goal is to automate data exchange using technology. Both API and EDI integration are effective with the help of a good development team.
Having said that, businesses that opt for fast-growing technology take advantage of API for its speed and connectivity. New features, robust solutions, and a comforting user experience give API an edge over EDI today. Businesses that pick APIs today convert their EDI to API using EDI-as-API platforms for streamlined EDI.
Still pondering over which one is a superior EDI solution for your excelling business? My advice to you is to try out Zenbridge now. Zenbridge is the all-powerful API to automate your EDI with global partners. You can achieve the best results in EDI integration while saving time, money, and patience. With a 30-minute demo, you can learn to automate your EDI without stressing about technicalities. Talk with our expert today to switch to the most robust and advanced API, and share your feedback.