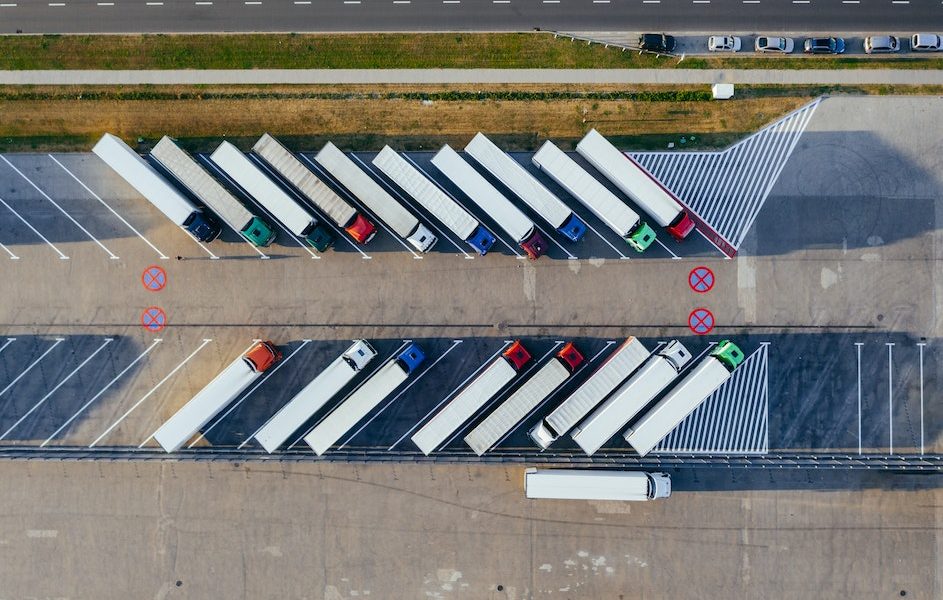 Supply Chain
Commonly Used 3PL EDI Documents
On March 21, 2023 by Shivam Rawat
What is 3PL EDI?
3PL EDI (Third-Party Logistics Electronic Data Interchange) is the process where a 3PL can communicate inventory and shipping information with other businesses, such as manufacturers, retailers, and other warehouses, via electronically generated documents called EDIs.
There are two use cases of EDI in 3PL:
(1) To exchange business data with its clients and
(2) To exchange business data with trading parties on behalf of its clients.
In the first case, where a 3PL uses EDI only for its client, it simply has to inform the client about the inventory and shipment. It is generally when the client is a manufacturer or a retailer who uses only specific services of a 3PL, such as warehousing. The client themselves conducts the rest EDIs, updating its trading partners and customers.
In the second case, a 3PL handles the client's entire supply chain, from storage to doorstep for its customers. It should update the client, its trading partners, and customers on the order's whereabouts. It is far more complex than updating the client, as more EDIs must be integrated with multiple trading parties. However, an EDI system that's well-integrated and looked over by EDI experts will never face any problems accommodating different kinds of EDI requirements.
List of 3PL EDI Documents
There are seven commonly used 3PL EDI Documents: 940, 945, 943, 944, 947, 846, and 856.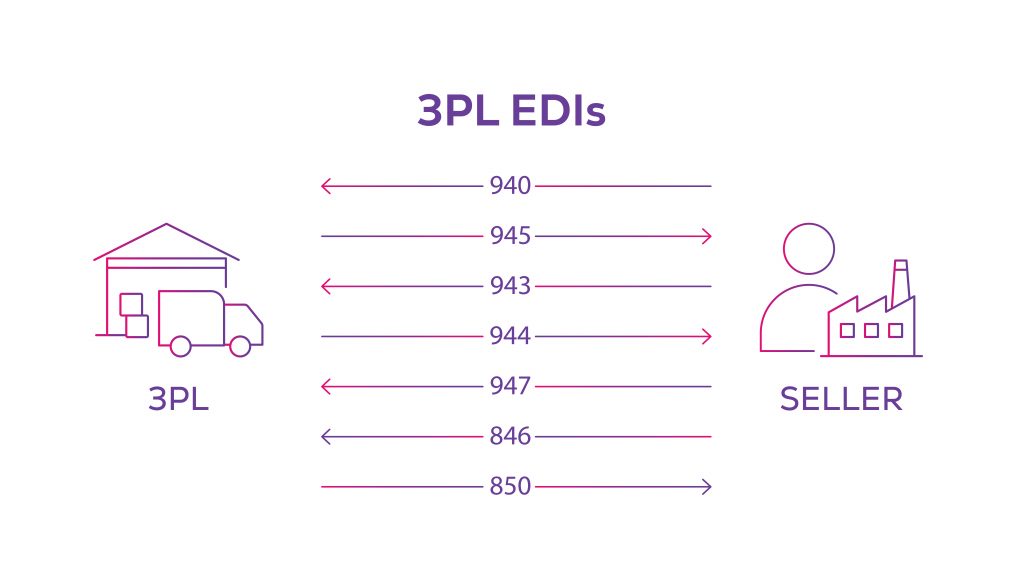 EDI 940
EDI 940 is used by a seller to alert the 3PL warehouse about the new order which is to be shipped to a buyer. It is called a Warehouse Shipping Order. The seller sends EDI 940, containing the buyer's information such as location, delivery date, item description, invoice, and shipment method.
EDI 945
When the 3PL completes a shipment, it sends a confirmation to the seller using EDI 945. It is called Warehouse Shipping Advice. It includes the completed shipment information, including ship information, date of shipment, shipment payment type, transportation method, and other item details.
EDI 943
EDI 943 is sent by sellers to inform a 3PL that a transfer shipment to 3PL's warehouse had been made. It notifies the 3PL warehouse facility when the new batch of products is sent to their location. EDI 943 is called Warehouse Stock Transfer Shipment Advice. It communicates information such as warehouse information, seller information, location of source and destination, carrier information, item, and date of shipment.
EDI 944
EDI 944 is sent by a 3PL as an acknowledgment to the seller that the warehouse has received the shipped goods. It is called Warehouse Stock Transfer Receipt Advice. It includes the same information as EDI 943, with a confirmation for the reception. In addition, it also contains information such as defective items and incorrect items in the received batch. Sometimes, EDI 944 is replaced with EDI 861 when requested by the trading partner.
EDI 947
EDI 947 is the Warehouse Inventory Adjustment Advice used for updating the inventory levels of the seller. It tells the 3PL to make adjustments according to the inventory available to the seller. A 3PL warehouse can also send EDI 947 to inform its client (seller) about the remaining inventory so the seller can plan the next shipment.
EDI 846
EDI 846 is the Inventory Advice used by both sellers and buyers to update each other regarding the inventory levels. It can be used to check the available inventory for a customer and inventory to be transferred to a different warehouse location. It helps sellers to get a quick update from warehouses to find the best shipping source for their buyers.
EDI 856
EDI 856 is the Advance Shipment Notification sent by 3PL to the seller's trading partners after processing the shipment. It contains the buyer's information, item information, shipping address, and tracking number. 3PLs use EDI 856 to notify multiple trading partners after their items have been shipped in a single consolidation. Although it makes shipping easier, coding EDI 856 for each trading partner's EDI specification requirements becomes equally more complex.
The need for 3PL EDI Integration
3PLs having multiple functions, such as warehousing, transportation, consolidation, and reverse logistics, use extensive workforce in areas that are hard to automate due to their comprehensive functions. However, every 3PL should consider automating what they can to make their workflow more accurate and efficient. B2B communication is one such area that can be fully automated using EDI integration. Here is why there is a need for 3PL EDI:
Manual processes are prone to frequent errors.
Poor communication can chase away customers and trading partners.
Bad data can result in high chargebacks.
Global supply chain data is becoming highly sophisticated to handle manually.
Modern-day supply chains require as much automation as possible. It requires a pace where trading parties can send and receive accurate responses in real time. With EDI integration, 3PL solves a broad complexity in its workflow, i.e., B2B communication, which helps in revising its resources that can be used in other vital sectors. With proper research and comparisons, a 3PL can find itself a fitting EDI software in the market.
There's more to learn about the 3PL EDI integration process, its common problems, and fitting solutions that we've discussed separately. Click here to read.
Zenbridge is an EDI-as-API platform that simplifies EDI integrations for everyone. Whether a 3PL owner or a developer is looking for a fully managed service or EDI software for its in-house team, they can take a quick demo of the platform by clicking here.