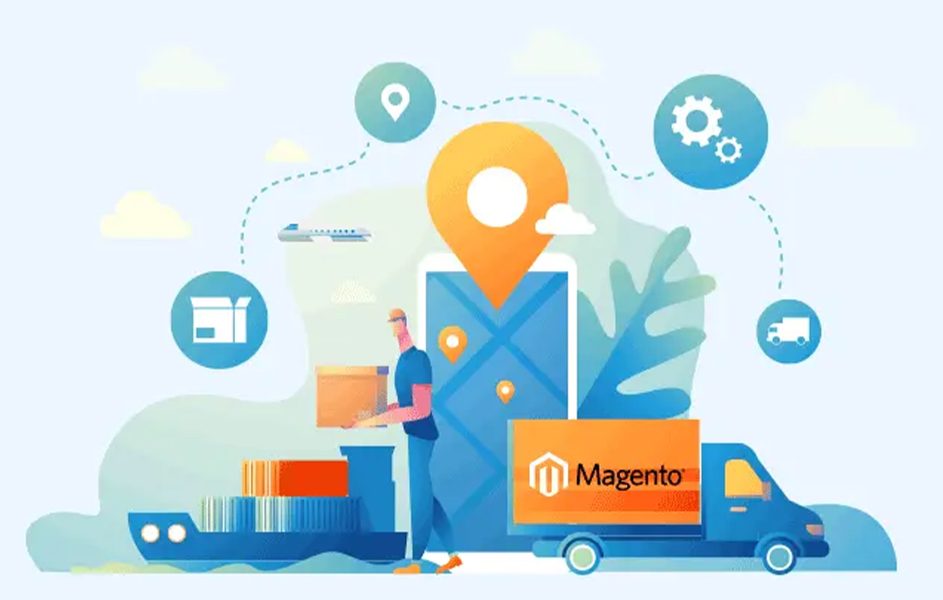 EDI Platform . Guide
Magento Commerce EDI INTEGRATION
On October 1, 2021 by Dhanushya Sree Ramesh
What is Magento Commerce:

Magento is an open source e-commerce platform that helps merchants with a flexible shopping cart system, as well as control over the look, content and functionality of their online store. It was released initially in 2008 and was acquired by Adobe Inc in May 2018.
According to Hosting Tribunal- "More than 250,000 merchants worldwide use Magento as their e-commerce platform".
The categories where they provide service are Customer Support, Payments & Security, Marketing, Accounting & Finance, Shipping & Fulfillment, and Site Optimization.
When you need Magento Commerce EDI:
One of the extreme sides of the supply chain cycle is bulk order management, and it is a horror feared and faced by all businesses today at some point or other. A growing business requires an efficient way to keep up with its industry. When you process a higher volume of orders every day, your retail partners will request an EDI Communication. Thus it is inevitable that you have a Magento Commerce – EDI integration as a part of your expanding business.
How to integrate Magento Commerce with EDI?
Magento Commerce is a cloud-based ERP Software that has APIs and lets you integrate with EDI through API. API makes it possible for other systems to transfer data to/from your Magento Commerce account.
When you have integrated your Magento Commerce eCommerce store with EDI, your business is Magento Commerce-EDI enabled. With Zenbridge, you can become Magento Commerce EDI integrated with just a few configurations using Webhooks set-up.
Zenbridge Webhooks for EDI-ERP Integration:
Webhooks acts as a bridge that connects EDI and Magento Commerce Platform and gives a seamless experience. It assists in the communication of events such as creation, modification, or deletion of assets such as PO, Invoice, etc from the Magento Commerce platform to third-party platforms such as EDI platforms in real-time. For example, when you set up a webhook using Zenbridge, you can notify events from Magento Commerce to Zenbridge in real-time and vice-versa.
Benefits of Magento Commerce EDI integration
Magento Commerce EDI Integration can be,
Hassle-free if the EDI tool is API-based and supports Webhooks.
Automate back-end as Magento Commerce EDI. It makes a swift e-trading with your retail partners, 3PLs, and suppliers.
Eliminates the manual integration process that makes the set-up smooth.
Invoices, purchase orders, etc. can be directly sent over to your partners which gets automatically updated in the inventory.
Having API enabled on ERP is a great sign that you have set your company well for integration and automation in the future as APIs make it possible for organizations to be more automated, transparent, and proactive.
How does it work?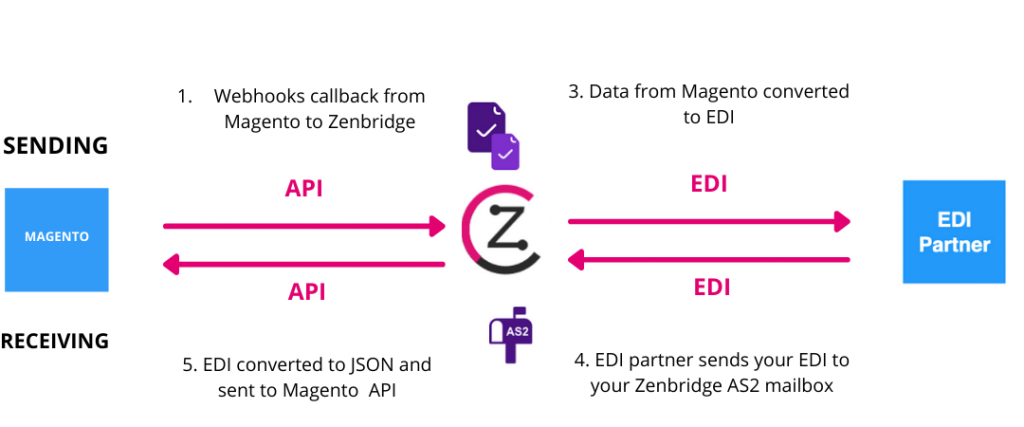 CONCLUSION:
Magento Commerce EDI is an inevitable tool for anyone doing business online. But, the important step is being able to integrate seamlessly.
Here is the list of ERPs you can make "EDI capable" within minutes with Zenbridge,
Happy Integrations! Zenbridge is an EDI-as-API Platform that can assist in hassle-free integrations