Guide
Netsuite EDI integration
On September 9, 2021 by Dhanushya Sree Ramesh
What is Netsuite?
Oracle NetSuite ERP is claimed to be one of the world's most renowned Cloud-based ERP for fast-growing businesses. It is a unified business management suite that offers support with the following services like financials, accounting, CRM & eCommerce. It stands out from its competitors as its built-in functionality allows it to support multiple applications under one platform, thus reducing costs and enhancing productivity. The major differentiator lies in the easily customizable dashboards.
According to infoclutch "NetSuite ERP, a software trusted by over 40,000 organizations which have around 5,646 customers in the USA."
The companies using Netsuite Integration are spread across different domains like small retailers, non-profits, micro-finance loans, Consumer manufacturers, Professional services for SMEs, etc. This flexibility of the EDI platform with diverse features can be applied to a range of business applications.
When do you need Netsuite EDI Integration?
EDI (electronic data interchange) is considered the most efficient method for B2B and B2C trading and for Netsuite, EDI is not a built-in service. It cannot process and automate EDI ASN, PO, or any other document that is delivered as an EDI transaction. However, NetSuite supports API. The API makes it easy to create applications and services that integrate EDI capability with your NetSuites account.
With an increasing number of small and medium businesses in the Retail industry utilizing integrated software than ever before it has become inevitable for Netsuite EDI integration.
The common Netsuite EDI Integrations:
Netsuite integrations are customizable according to your partners (Retail, 3PL, Transportation, etc). The most common Netsuite EDI Integrations options are:
810 EDI Invoice
850 Purchase Order
856 Ship Notice/Manifest
812 EDI to Debit/Credit Memo
820 EDI to Cash Receipt
855 Purchase Order Acknowledgment
856 Ship Notice/Manifest
860 Purchase Order Change Request
Warehouse Shipping Order 940
945 Warehouse Shipping Advise
How to integrate Netsuite with EDI?
Oracle Netsuite APIs lets you integrate with EDI through API.  API helps with data transfer from the partner's account into the Netsuite account and vice-versa. With Zenbridge, you can become Netsuite EDI integrated with just a few configurations using Webhooks set-up. 
Zenbridge is a platform that converts EDI to API and vice-versa, hence giving you an API for sending and receiving EDI. So in effect to make your environment complete EDI integrated, you just have to set up Webhooks inside Netsuite and Zenbridge to make the two exchange EDI transactions. 
Webhooks acts as a bridge that connects EDI system and Netsuite Platform and gives a seamless experience. It assists in the communication of events such as creation, modification, or deletion of assets such as PO, Invoice, etc from the Netsuite platform to third-party platforms such as EDI platforms in real-time. For example, when you set up a webhook using Zenbridge, you can notify events from Netsuite to Zenbridge in real-time and vice-versa.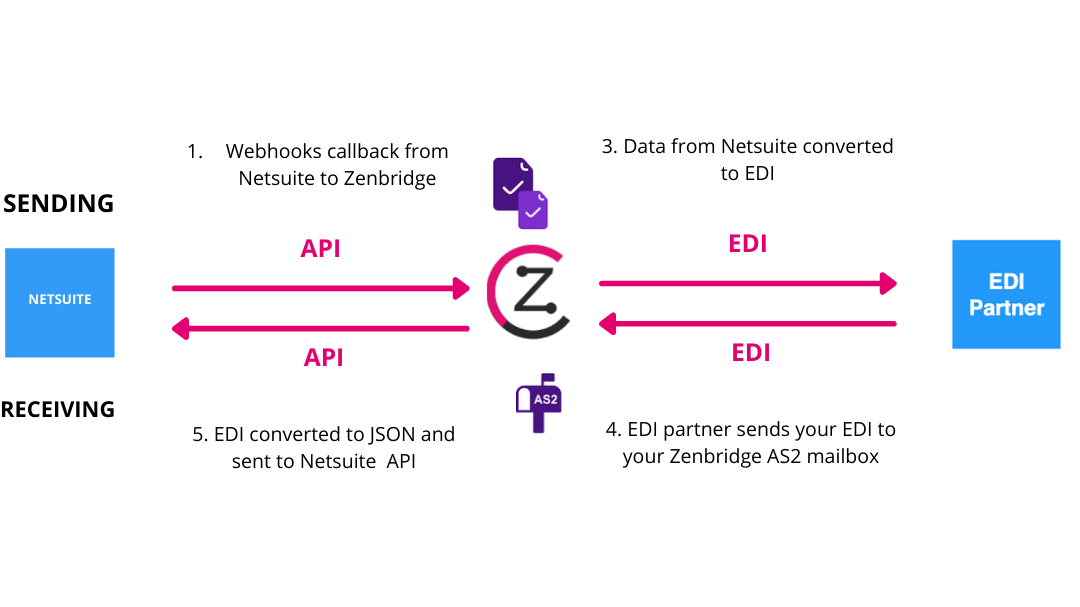 Benefits of Netsuite EDI integration:
Netsuite EDI Integration can be:
Automate the back-end as Netsuite EDI integration makes a swift e-trading with your retail partners, 3PLs, and suppliers. 
Eliminates the manual integration process that makes the set-up smooth.
Send Invoices, purchase orders, etc. directly to your partners.
Having chosen an ERP software like Netsuite which comes with API, is a great sign that you have set your company well for integration and automation in the future. APIs make it possible for organizations to be more automated, transparent, and proactive. 
Apart from Netsuite, Zenbridge can make any ERP that has an API. We have listed some of the most widely used ERPs for your reference.
Happy Integrations! Zenbridge is an EDI-as-API Platform that can assist in hassle-free integrations.