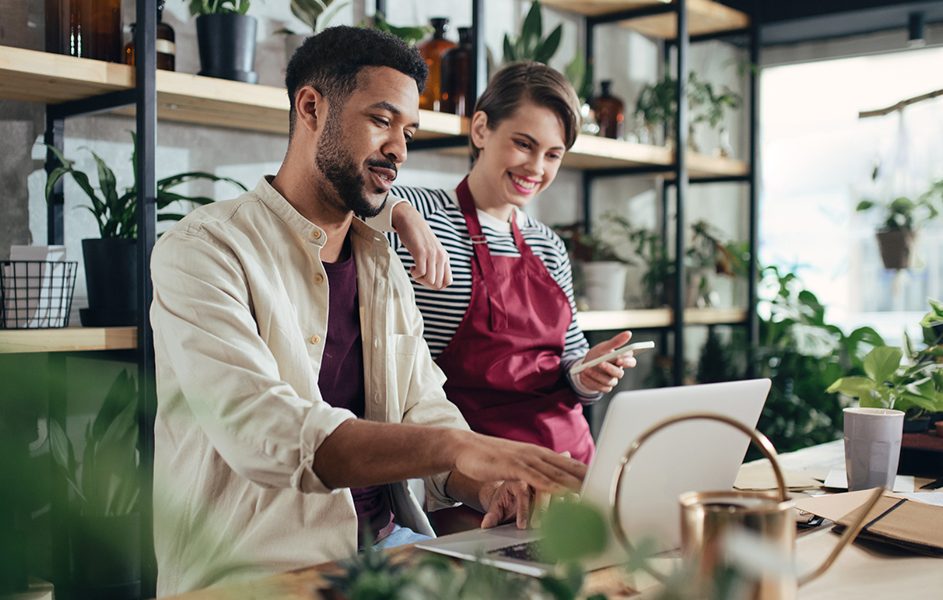 Featured . Guide
Best EDI Software for a Small Business
On February 3, 2023 by Shivam Rawat
If you are running a small business dealing with trading partners who mandate EDI, then choosing your EDI software solution could be a daunting task. The best way to go about this is first to understand the different kinds of EDI software solutions available in the market. We have written a decision-making guide that explains the kinds and compares them to key factors such as nature of use, resources required, support, EDI integration time & cost.
For small businesses particularly, the best kind of EDI solution to get started would be Fully managed EDI providers. They are SaaS-based EDI solutions that come with managed services. They provide the software for you to access your EDI transactions, read reports, etc., while also taking care of managing the project. If you are just getting started with EDI and don't have an in-house EDI/IT team, it is best to avoid purchasing EDI software. Even if you hire EDI consultants to manage it for you, it always gets increasingly costlier to maintain and definitely consumes your internal bandwidth.
What makes EDI software good for a small business?
Now that we have narrowed down on outsourcing EDI to a fully managed EDI provider as the best way to get started, let's take a look at two things that absolutely matter when it comes to picking an EDI software for a small business – (1) Great support (this is non-negotiable) and (2) Cheap & transparent pricing that ensures you are not paying for things you probably won't need.
Let's take a closer look at these two parameters.
Support – You need a true partner.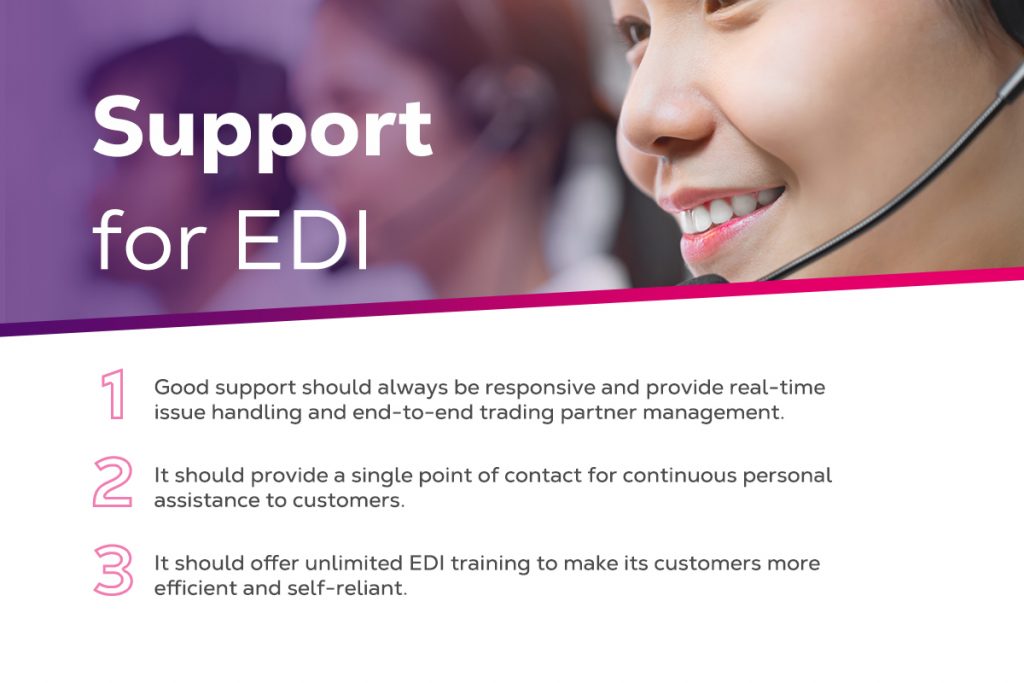 Your chosen EDI service provider should be your cheerleader who wants you to grow so that they can grow with you. They should be very responsive so your supply chain can function without issues. A broken supply chain, chargebacks, and negative customer reviews can truly hurt a small business. It is important that the provider really values you as a customer and feels the pinch of being a small business. While everyone pretty much promises things like 24X7 support hours, there are two things you should absolutely look out for – One-on-one support and Training support.
One-on-one support
Having a single point of contact, you know you. You need someone who can empathize with your struggles. Look out for EDI vendors who offer this. Talking to a new representative every time you connect with the support is usually very daunting, consuming both time and energy. Good support should provide continuous personal assistance to its customers.
Training support
While you may not want to know all the details of your EDI process while you are small and growing, eventually, you will want an EDI vendor who can patiently train you and your employees. They should keep your best interests in mind. Being self-sufficient massively increases your productivity and may help you even in troubleshooting issues yourself. So EDI providers who provide unlimited or plenty of free training should be given higher preference.
Pricing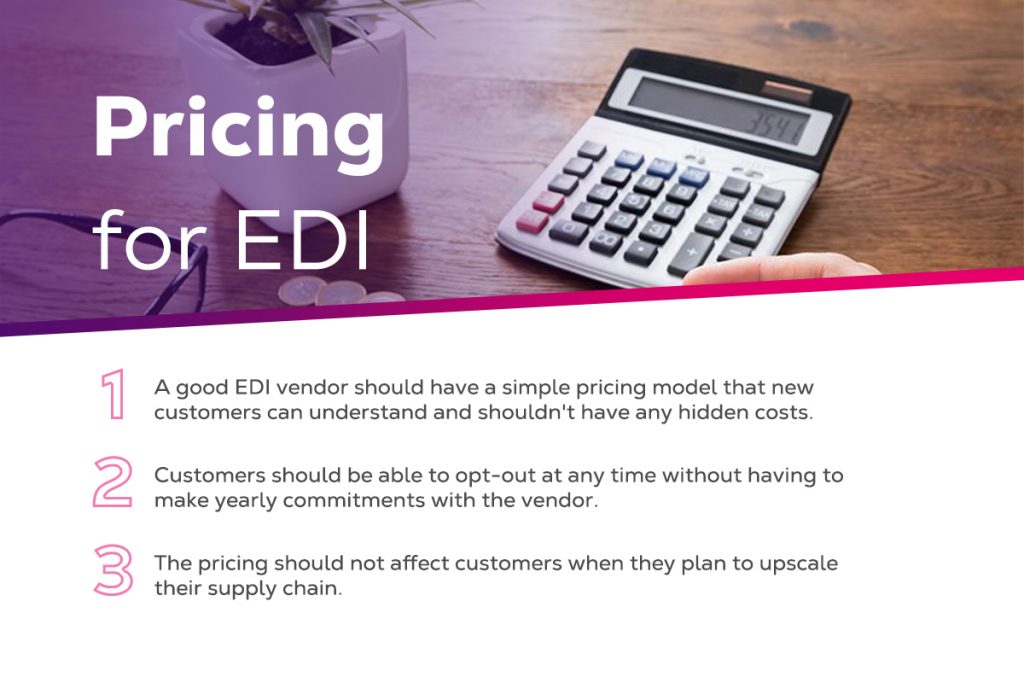 Pricing for EDI can be complex and tricky. Often, they are intentionally structured to be complex. Complex pricing models may not affect large businesses by much, but it can be a huge deal for small businesses that do not have equally competitive funds or the time to understand every technical term listed in the pricing agreement. So ensure the EDI provider you are dealing with has a simple understanding of pricing. If it sounds complex, chances are there might be hidden costs. Here are a few more things to consider while comparing the pricing of EDI solution providers:
Pricing parameters
It's really important for you to understand all the pricing parameters that affect the cost. The smaller the parameters, the better it is for you. It makes things more predictable for you. Importantly, it means the EDI vendor is not trying to trick you with hidden costs. Some EDI solution providers charge you by file size (KB) or SKUs. Those are hard to estimate. Rather, look for EDI solution providers that keep things simple by charging you for the number of transactions and the number of trading partners.
Opt out anytime
One of the main pain points with some of the big, old EDI vendors is the yearly commitment. However, that's not the case with some of the new players. Ideally, you should be able to opt out at any time if you are not satisfied with the service. Subscriptions should not bind you to long-term commitments.
Easy upscaling
An EDI solution shouldn't break the bank when you plan to upscale your EDIs. The pricing should be adjustable as you grow bigger. So asses the bigger plans so you understand what you might be charged as you scale.
Conclusion
In summary, the best EDI software or an EDI solution for a small business is the one that empathizes with you, treats you as their top priority, and offers pricing that is easy to understand and transparent. If you are in the process of hunting for an EDI service provider, Zenbridge would be an ideal option. You can schedule a demo with us to know how our support and pricing trump any other EDI provider in the market.