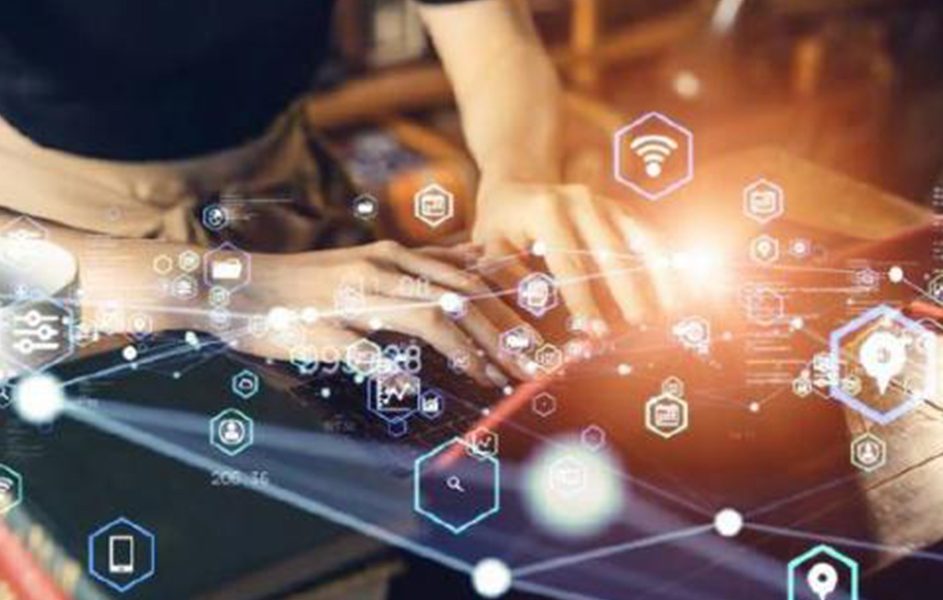 Guide
SaaS EDI & the Advantages of Using It
On January 31, 2023 by Shivam Rawat
Learn why SaaS EDI is becoming a popular choice among businesses due to its accessibility, maintenance, customization, and affordability.
What is SaaS EDI?
SaaS EDI (Software as a Service Electronic Data Interchange) is a cloud-based application that enables electronic data interchange between companies using a completely online infrastructure. It is used to automate the exchange of EDI between two trading parties. It is an easy-to-access interface stored in third-party servers accessible via the internet, so you do not have to build your own infrastructure to run EDI. SaaS EDI is capable of integrating with third-party software systems such as CRM, ERP, TMS, WMS, etc.
What is on-premise EDI?
On-premise EDI refers to the use of EDI software that a company purchased and installed on its own servers. The company oversees the entire EDI infrastructure, development, and transmissions of EDI with its in-house team of EDI team, thus having complete control over their EDI. Many large-scale organizations rely on these systems for data security purposes.
In recent years, on-premise EDIs have seen a slow decline in preferences among small and medium-sized businesses. But before we discuss the reasons behind this decline, let's look at some differences between SaaS EDI and on-premise EDI.
The difference between SaaS EDI and on-premise EDI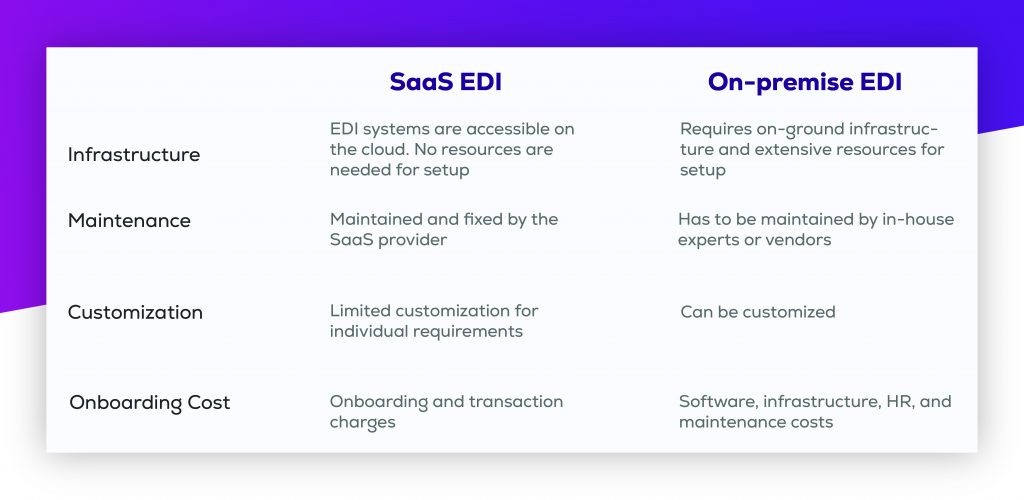 Infrastructure
The on-premise EDI system requires both hardware and software to be present on your company premises. You should install the product on your servers and have your in-house team manage the EDI infrastructure.
On the other hand, SaaS EDI software is ready to go sans configurations. There is no need for installation as the entire infrastructure is accessible via the cloud. It completely eliminates the need for companies to invest in building their own EDI infrastructures.
Maintenance
Service providers may or may not provide updates and maintenance to on-premise EDI systems, depending on the contract. Whatever the case, maybe it would be necessary for your in-house team to be trained on basic tasks and basic troubleshooting procedures.
SaaS EDI providers manage the software, its updates, servers, security, and maintenance. You have the ease of managing your EDI without having to worry about taking on the task yourself. SaaS providers also constantly update their systems and fix the errors reported by their customers, which increases the stability much quicker.
Customization
You can customize your on-premise EDI infrastructure. You can discuss your EDI strategy, budget, and required resources with your team and deploy the software. On-premise EDI is a good choice for businesses that have very specific expectations with the EDI system.
In order to customize SaaS EDI, you need to connect with their development team and request the feature or solution you want in the software. Your in-house team does not have access to make changes in the software and will have to wait for the response. Nevertheless, some SaaS EDIs offer customization options to customers.
Onboarding cost
Service provider fees, infrastructure building, hiring experts, and scaling the process can result in large overhead and resource costs. On-premise EDI requires a high budget which only a few large organizations are comfortable spending.
Most SaaS EDI services are subscription-based. It cuts the investments of resourcing and staffing to pay only for the product and monthly transactions. In other words, It is a more affordable choice for small businesses that are planning to upscale their supply chain.
The main advantage of SaaS EDI
In reality, legacy EDI platforms that offer on-premise EDI have slowed down and haven't updated themselves in ages. SaaS EDI, on the other hand, is built for the future, developing alongside technologies like API integrations.
For example, SaaS EDI has pre-built EDI connectors, standards, and protocols, making it easy for customers to implement EDI without any expertise. It takes weeks or even months to complete the deployment of on-premise EDI software.
SaaS EDI is easy, accessible from anywhere, and more efficient than on-premise EDI systems. Everything is stored on cloud servers of platforms that take full responsibility for the security and transmission of your data. By just subscribing, you can connect, integrate, and exchange data with your trading partners while the service provider will handle the technical aspects of EDI and the software.
In short, SaaS EDI offers a quicker, easier, and cheaper way for organizations to get going with EDI.
Five things to look for in a SaaS EDI Solution
In order to have the best supply chain management, you need a service provider that can empathize with your goals. Finding the right SaaS EDI that can effectively help in integrations isn't always easy. There are some helpful strategies to determine which service provider suits your business. Here is what you should be looking for, starting from the highest priority.
Compliance requirements
Your SaaS EDI should be aware of the compliance requirements of your trading partners. Be it EDI specifications or label specifications. It should also provide assistance and customizations.
Implementation time
Picking the right SaaS EDI can be advantageous in reducing the turnaround time. Find out how much time the service takes to integrate with trading partners and your company's existing systems, such as ERPs and WMS.
EDI volume
The SaaS EDI should be able to handle the EDI transactions made by you today and in the future as well. It should not create problems when you plan on upscaling or downscaling your EDI traffic. It should adjust as per your EDI volume.
Customer support
Even though listed fourth in the list, support is the most crucial aspect in solving EDI issues. Poor customer support can impact your company's growth. Make sure that the service you pick solves your queries on time and through experts.
Pricing
SaaS EDIs are comparatively cheaper than legacy EDI solutions despite being far more advanced in nature of use. However, you can still compare multiple services to decide which one's the right fit for everything you need at the best price.
Zenbridge's SaaS EDI
Zenbridge is a SaaS EDI as an API platform that helps you connect with your trading partner and meet their compliance requirements in real-time, enabling faster integrations.
Developers can use Zenbridge's pre-built configurations to integrate EDI with any global partner within days.
Since Zenbridge is a SaaS API platform, customers will never worry about maintenance tasks such as storage, backup, disaster management processes, etc.
Zenbridge provides lifetime free developer support to its valuable customers to help with integrations whenever they want.
Zenbridge connects with its customers to discuss their EDI goals and customize their plans as per their EDI goals for as low a fee as possible. To know more, click here.
Conclusion
Zenbridge's state-of-the-art SaaS EDI allows customers to perform EDI integrations using an API and a cloud environment, making every developer's life easier.
As a developer or a business owner, you can find out more about Zenbridge by connecting with one of our team members, who will walk you through the platform. With this quick demo, you will be ready to set up your own EDI connection with your trading partner using any SaaS EDI you decide to pick.