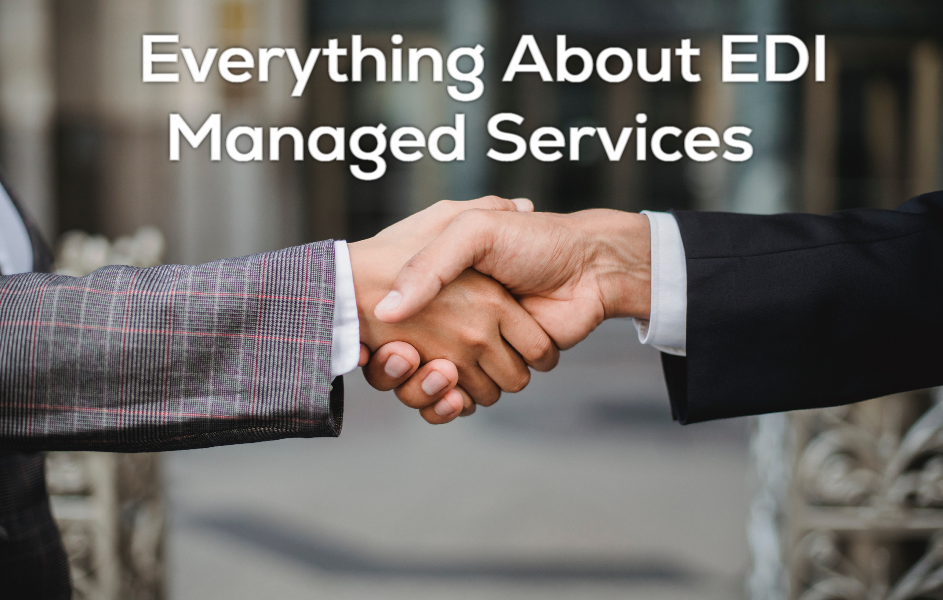 Guide
EDI Managed Services Roles & Responsibilities
On September 7, 2023 by Shivam Rawat
What are EDI managed services?
EDI-managed services handle end-to-end EDI services, which include trading partner onboarding, EDI integration, and EDI support. Its customers are businesses that lack an EDI infrastructure and EDI developers. EDI-managed services are also known for customizing their solutions per business or industry requirements.
Businesses big and small weigh their EDI's success in ROI, so whether they build an in-house team or hand over EDI to a managed service provider, several factors spur the decision to make smart investments.
In this article and video, we will learn who needs EDI-managed services, its benefits, and what to look out for while choosing a managed service provider.
Who uses EDI managed services?
Small businesses that don't have a clear understanding of EDI go for managed services. It gets their end-to-end jobs done for a smaller fee and saves them the trouble of learning EDI integration, trading partner connections, or EDI spec configurations.
Medium and large businesses can build in-house teams more easily. However, the recent decline in the EDI talent pool has raised concerns, such as increasing development costs and long turnaround times. Hence, several businesses are migrating to managed services to achieve their EDI goals more effectively.
Benefits of EDI managed services
EDI-managed services can prove beneficial for your business in many ways.
Internal expertise & bandwidth
EDI-managed services deal with EDIs daily and keep EDI experts on payroll to look over customer matters. You can grow your trading partner network without struggling to maintain an EDI team or system's bandwidth.
24/7 monitoring
You may face system downtime issues with your in-house EDI staff, as they may sometimes be unavailable for emergencies. EDI-managed services have staff monitoring your EDI health 24/7, fixing problems even while you are away from your system.
Quick error resolution
Unlike freestanding EDI software providers, a managed service provider will also assist you with issues related to internal systems, bugs, and other transactional errors. You will receive faster resolutions and constant updates to improve your EDI without additional costs.
Faster onboarding
EDI-managed services have the experience to provide short turnaround times for end-to-end integrations. They predict customer requirements from previous projects and build readymade workflows to speed up upcoming onboarding.
Easier payments
If you go around paying for every individual process of EDI integration, it can create a dent in your bankroll and complicate your accounts. An EDI-managed service's fee structure will be simple and cover expenses for the entire integration process at lower costs.
Roles and responsibilities of EDI managed service providers
Managed services cover all aspects of integration for its customers, which are the following.
Connecting customers with their trading partners, exchanging, and configuring EDI spec requirements.
Adding or changing maps whenever a new EDI spec is required or a previous one requires an update.
Provide support to solve EDI failures and build required fixes to recurring issues.
Maintained EDI systems and updated software with new features that ease future integrations for customers.
All the above processes incur individual costs, whether you outsource to EDI consultants or build an in-house EDI team. However, in the case of managed services, it is an all-inclusive solution that doesn't need any externally functioning entity.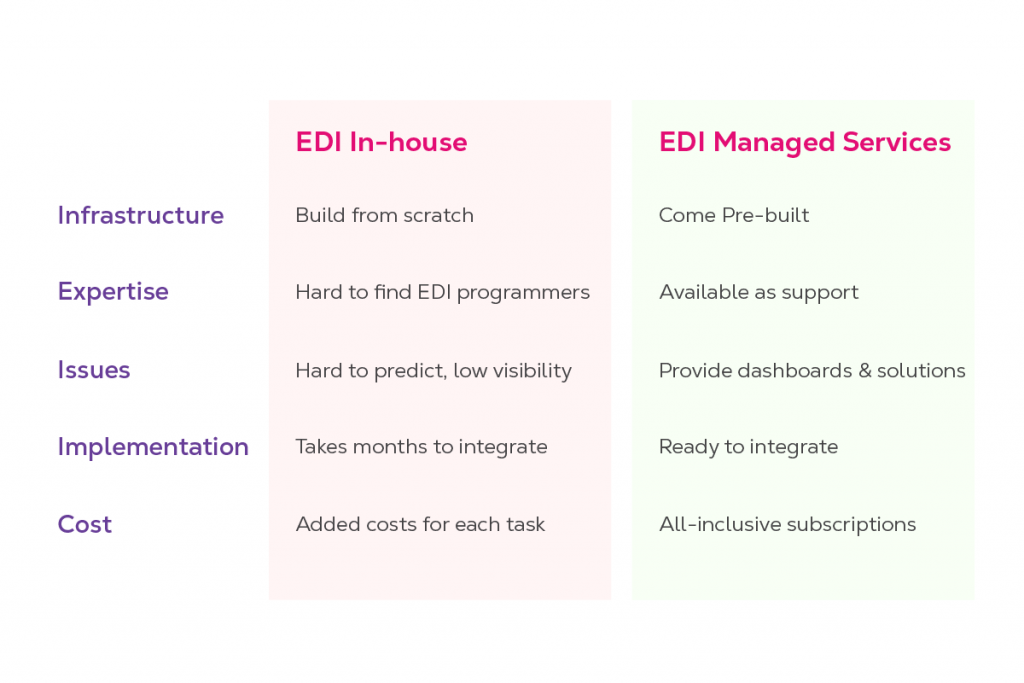 Qualities of a good EDI managed service
When you are looking for an EDI-managed service, there are only three things that will set one apart from the rest:
1) Support – You should look for a service provider that can assist through the phases of development and transmission.
2) Technology – Their EDI platform should be cutting-edge so your EDI system stays flexible to integrate with future applications easily.
3) Pricing – After ensuring all your requirements are met, get the best TAT and ROI while picking an EDI-managed service.
Conclusion
When a business wants to integrate EDI but lacks the team and resources to achieve this feat, EDI-managed service will suffice every requirement to achieve it from one end to the other. It is a convenient option for businesses and enterprises that don't like to deal directly with EDIs but should be EDI-compliant to deal with trading partners. It takes away the pain of EDI integrations, leaving you time for other functions of your business and building healthy relations with your trading partners.
Zenbridge has a fully managed mode for customers to customize and implement EDI completely within days. To schedule a free demo, click here.