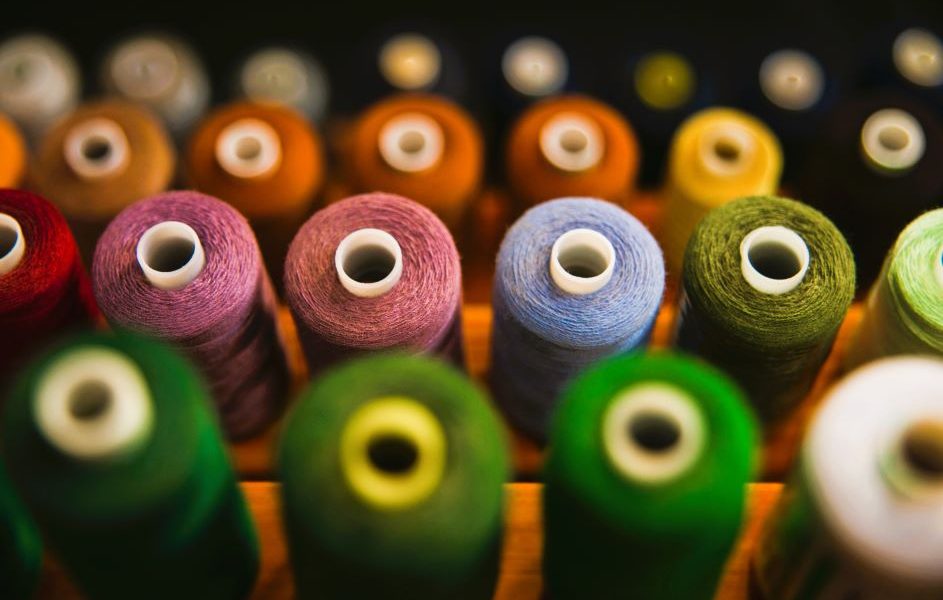 Update
EDI in Manufacturing – Process, Need, & Benefits of API for Your Business
On May 9, 2023 by Shivam Rawat
In a competitive market, a manufacturer has to source materials, lead production, and arrange delivery before the market requirements for its product start to decline. Operations such as supply forecasting, thus, require rapid and effective communication with the supplier to stock inventory. Failing to exchange information on time causes production delays, impacting the supply chain and damaging the sales of a business. Hence, modern manufacturers are integrating EDI (Electronic Data Interchange) into their systems to respond effectively to trading partners and customers as quickly as possible.
In this article, we will discuss the EDI process in manufacturing, why you need EDI as a manufacturer, and some benefits of using API for EDI.
What is the Manufacturing EDI process?
Manufacturers exchange EDI networks with suppliers, carriers, and third-party warehouses to exchange information such as order requirements, delivery routes, and inventory status.
You will require an EDI platform to integrate EDI into your ERP or an SCM system. The EDI platform lets your system read and write EDI transaction sets, such as purchase orders, invoices, and shipment notices, and also stores information at the right data points.
Why does the manufacturing industry use EDI?
Several communications with trading partners need to be carried out on a daily basis which you can accomplish using EDIs. Here are the processes that use EDI in manufacturing.
Sending forecasting reports
Forecasting orders help you maintain optimal inventory levels at the manufacturing unit. EDI makes forecasting accurate by estimating future resource requirements, scheduling upcoming orders, and communicating item changes to suppliers as needed. You can automate forecasting reports using EDI to prevent stockout situations and maintain consistent production.
Organizing date range
EDI can notify all supply chain partners and customers about the time schedules at once so they can sync their operations effectively. By using EDI, you can provide approximate delivery dates to your customers when you can plan date ranges with your suppliers and carriers in real-time.
Managing carriers
EDI takes care of everything to connect and exchange data with carrier services. No manual effort is needed to send tenders, striking one major task off your to-do list. The entire process can be automated if you use EDI to list, select, book, and track carriers.
Finalizing orders
Tasks such as receiving customer orders, sending shipment notifications, and managing invoices with trading partners and customers can be automated. EDI integrated into your ERP system can maintain your data where you can always access any order-related information with just a few clicks.
EDI transaction sets used in manufacturing
Here are the commonly used EDI transaction sets in manufacturing – 850, 855, 856, 810, 830, 846, 832.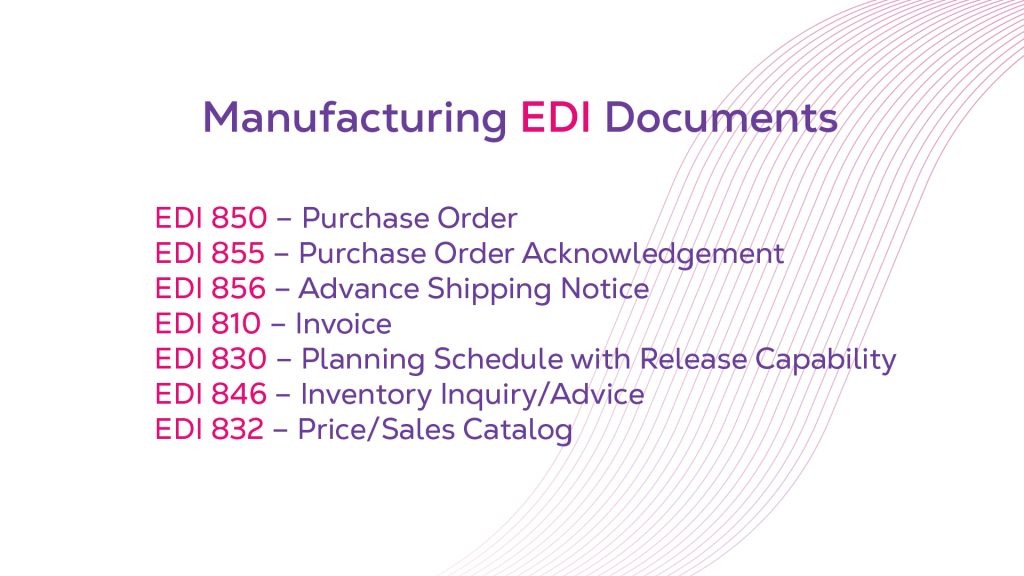 Benefits of API-based EDI for Manufacturing
API is a modern alternative to traditional EDI practices, offering to tailor EDI to your unique needs. As a manufacturer, you will have multiple trading partners who may handle EDI operations differently. In such cases, legacy EDI platforms are often seen to underperform due to persisting limitations. On the other hand, API in the hands of a good developer can be limitless. Let's look at some of the benefits of API that meet your EDI needs.
Real-time compliance validations
API can reject non-compliant EDIs automatically so you can fix errors instantly, whereas traditional EDI systems would take days to respond to a compliance validation request.
Customized EDI systems
The flexible nature of API allows you to customize EDI integration universally, which helps you to connect with any trading partner without having to enforce their EDI practices or software on your system.
Developer friendly
EDI development is a tough practice, and its monotonous nature chases away most modern developers. API modernizes EDI integration, allowing new-age developers to develop and manage EDI systems with simpler definitions and protocols.
Cost saving
API helps reduce the cost of EDI and provides better ROI. It requires lesser maintenance, has cloud storage, and can add and automate trading partners without extensive planning.
Conclusion
A small manufacturing business that has just begun networking with trading partners should consider investing time into weighing its EDI options. Your EDI solution should be able to sustain your business growth as your EDI transactions start escalating. A strong supply chain with flawless EDI will empower you to compete effectively in the industry now and in the future.
Zenbridge offers a cutting-edge API-based-EDI platform that lets you exchange compliant EDI documents with your suppliers and automate the workflows. To learn about Zenbridge, schedule a demo by clicking here.